Our application has been designed to simplify your booking process. In order to improve the relationship with the private chauffeurs, a monthly subscription system has been designed to leave more revenue to the chauffeurs. In fact, we no longer take a commission for each trip. Thus, each private chauffeur will be paid at his fair value.
Order your journey in a few clicks.
Book a trip with immediate pick-up or reserve a car in advance for a whole day or a simple transfer.
A wide range of vehicles are at your disposal.
Payment by credit card or cash will make it easy for you to use our platform.
Take advantage of our guaranteed fixed rates, which means you will never have to pay more in case of unforeseen circumstances such as flight delays or traffic jams.
A tailor-made service available 24 hours a day, 7 days a week.
Our objective is to make your life more convenient and this has led us to create the most practical application possible. Available on Google play and on the App Store, we also have a website and a Facebook page to provide you with new information.
We are available on both platforms to offer the best experience. Google play and app store.
Enter your mobile number below to get the download link to your mobile.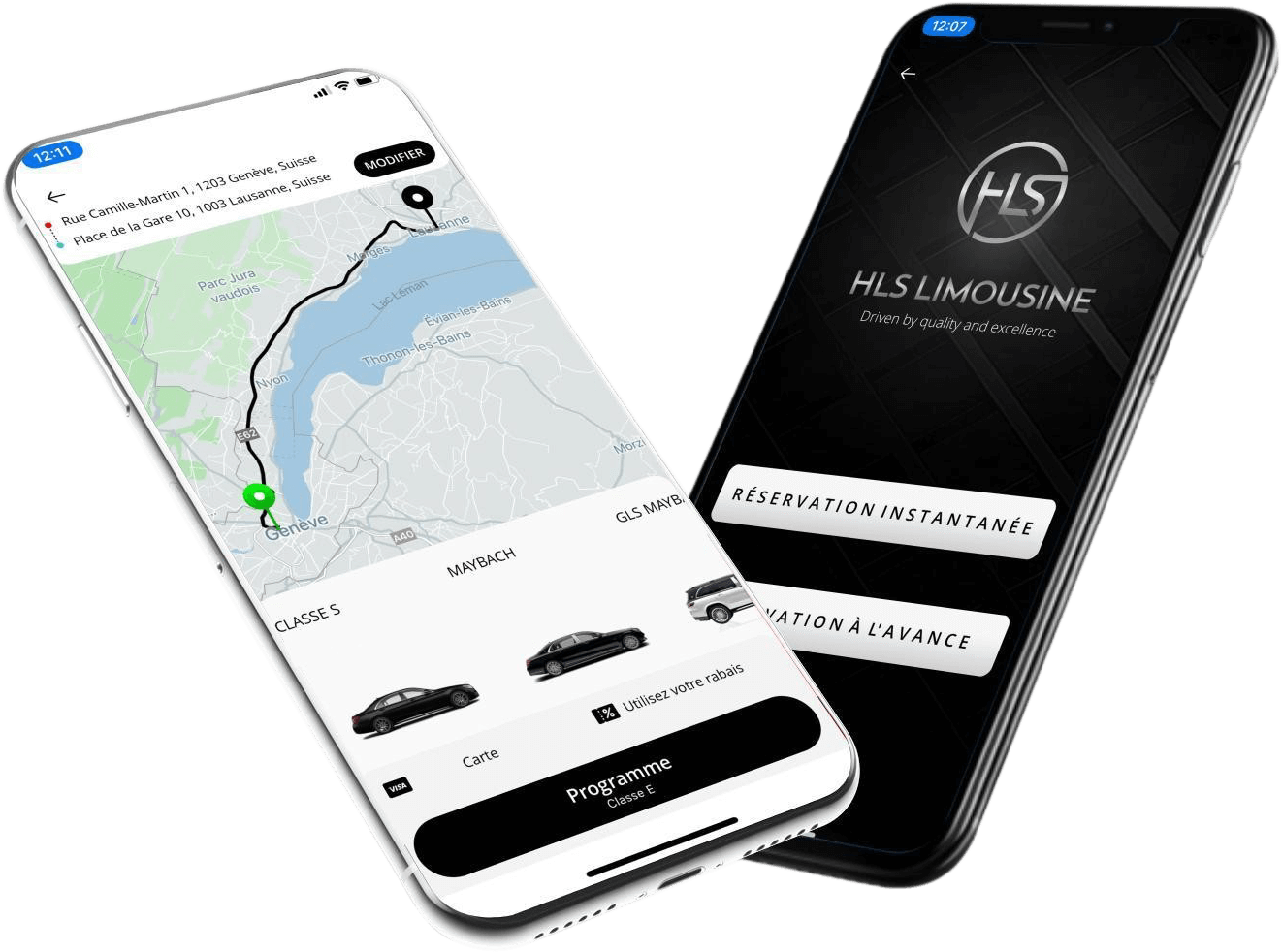 Book your private driver online!
HLS Limousine offers you service to book your private chauffeur online. To do so, you can use our booking application. It is intuitive, efficient and easy to use. Using our tool, you can book your chauffeur in a few minutes and go wherever you want. This booking tool allows you to reach your destination in just a few clicks.
Private driver in Switzerland at your disposal: stations, airports, tourism and all distances
The HLS Limousine application is available for all your trips and transfers in Switzerland, whether private or professional. Our application is at your disposal to offer you a complete and quality service that meets all your requirements 7 days a week and 24 hours a day.
Comfort
Quality
Punctuality
Trust
Organize yourself as you wish! In addition to direct booking, you can anticipate and book a ride for a later time!

Chauffeurs receive 100% of the revenue from the rides
Chauffeurs pay a fixed fee and they are not charged a commission fee
Credit card fees are withdrawn directly from the ride amount (2.9% + 0.30cts)​

Compliant with Swiss law​​
Made in Switzerland, we take local laws to heart and respect them.​
Well-being for everyone​​
The happiness of our chauffeurs is the happiness of our customers!